Welcome – Bienvenue – Fáilte – Velkomin – Tekwanonwerá:tons – Welcum –  Willkommen – Welkom
Velkommen – Tervetuloa – Benvenuto – Velkominn –  Velkommen – Bienvenido – Välkommen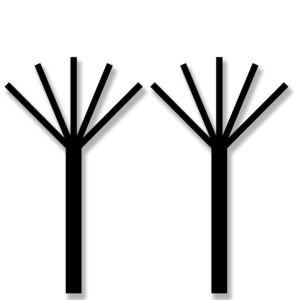 I love to create contemporary art in digital media. Fractals, geometric forms, abstract elements & the use of a bold colour palette are prominently featured in my work. Creating in digital media since 2003, I am currently exploring the realm of alternative digital printmaking.
By reflecting on the past, connecting with the present and envisioning the future, I am able to fulfill an ongoing creative need and artistic desire. Most of my self-expressions have traveled a long path before being brought to life visually. Each one represents a significant marker in time & space and is part of this thrilling creative journey I am following. I have taken many detours along the way, but always remaining passionately curious, and forever seeking inspiration from internal as well as external stimuli.
Just as an artist's statement is considered a "living document", (continually subject to change) . . . so too is my art. It temporarily lives in the form of pixels and binary code embedded in my computer, and is subject to boundless artistic nuances, before finally deciding to manifest the original work of art outside of its matrix. The only thing constant is change.
I embrace digital technology and love the free-spirited feeling derived when creating abstractly. I look forward to continually growing as an artist & leaving my marks along the way.
"As an artist, I am able to float in gentle waters of my mind, as well as express the turbulence of the storms of life.
Each of my senses connects to a lifelong journey of memories and relationships.
These are the markers which I reflect and draw upon. "
Solo* & Juried Exhibitions
2019 – The Pictograph Gallery, Atikokan, ON – Geometric Abstractions- Common Elements: lines, shapes & colours*
2018 – Definitely Superior Art Gallery, Thunder Bay, ON – "Untamed"
2018 – Local Colour Art Gallery, Thunder Bay, ON – GEOMETRIX: Exploring concepts of Geometric Abstraction*
2018 – 5th International Festival of NanoArt – Heraklion, Crete, Greece
2017 – Local Colour Art Gallery, Thunder Bay, ON – Geometrics & Abstractions *
2016 – Local Colour Art Gallery, Thunder Bay, ON – Bozzettos – Framed Works *
2009 – The Last Taboo – curated by Moses Znaimer, Propeller Centre for the Visual Arts, Toronto, ON
2009 – EuroNanoForum 2009- [NanoArt Exhibition] Prague, Czech Republic
2008 – NanoArt Intl Competition
2007 – Chapter's Bookstore, Thunder Bay, ON – Digitally Wired in a Wireless World *
2007 – Definitely Superior Art Gallery, Thunder Bay, ON – "Change"
2007 – Internationale d'art Miniature Juried Exhibition, Levis, Quebec
2007 – 1st International Festival of NanoArt – Kotka Photographic Centre, Kotka, Finland
2006 – Duluth Art Institute – Duluth, MN, USA – Arrowhead Biennial Exhibition
2006 – MOCA Museum of Computer Art
2006 – Definitely Superior Art Gallery, Thunder Bay, ON – "Contact"
2005 – Innographx PhotoArt Competition
2005 – MOCA Museum of Computer Art
2004 – Celebration Exposition for the Arts, Thunder Bay, ON
2004 – Thundering Women's Festival, Thunder Bay, ON
2004 – MOCA Museum of Computer Art
Group Exhibitions
2018 – Culture Days, Local Colour Art Gallery, Thunder Bay, ON – Fractal Demonstrations
2018 – Urban Infill – Art In The Core, Local Colour Art Gallery, Thunder Bay, ON – Fractal Demonstration
2017 – Culture Days, Local Colour Art Gallery, Thunder Bay, ON – Fractal Demonstration
2017 – Urban Infill – Art In The Core, Local Colour Art Gallery, Thunder Bay, ON – Fractal Demonstration
2016 – Culture Days, Local Colour Art Gallery, Thunder Bay, ON – Fractal Demonstration
2016 – Urban Infill – Art In The Core, Local Colour Art Gallery, Thunder Bay, ON – Fractal Demonstration
2011 – Massachusetts Museum of Contemporary Art – An Exchange with Sol LeWitt curated by Regine Basha
2009 – Definitely Superior Art Gallery, Thunder Bay, ON – Digital Playground -2 person exhibition with Duncan Weller
2008 – Definitely Superior Art Gallery, Thunder Bay, ON – Members Exhibition
2008 – Cancer Connections Project – Photosensitive – Canada
2008 – Digital Show III Exhibition – Futuresonic 2008. Manchester, UK
2008 – Naestved International Exhibition of Contemporary Mini Square Prints, Naestved, Denmark
2007 – Art Zoom, Thunder Bay, ON
2007 – Definitely Superior Art Gallery, Thunder Bay, ON – Urban Photography
2007 – Bau-Xi Gallery, Toronto, ON – Nuit Blanche – City at Night: "A Tribute to Brian Kipping"
2007 –  Definitely Superior Art Gallery, Thunder Bay, ON – DFASTB – Homage to René Magritte – Group Exhibition
2007 – Harbour Arts Festival, Thunder Bay, ON
2007 – Lot 66, Thunder Bay, ON – Mixed Nuts Exhibition
2007 – Definitely Superior Art Gallery, Thunder Bay, ON -Members Exhibition
2007 – Pictograph Gallery, Atikokan, ON – Yours, Mine & Ours
2007 – Definitely Superior Art Gallery, Thunder Bay, ON -Urban Infill – Art in the Core
2007 – Thunder Bay Historical Museum, Thunder Bay, ON – Heavy Metal
2006 – Definitely Superior Art Gallery, Thunder Bay, ON – Nightmares
2006 – Thunder Bay Historical Museum, Thunder Bay, ON– Digital iCandy
2006 – Folklore Festival, Thunder Bay, ON – DFASTB Group Exhibition
2005 – Chapter's Book Store, Thunder Bay, ON – Digital Day with DSASTB
2005 – Shelter House -24 HR Corporate Relay, Thunder Bay, ON -DFASTB Group Exhibition
2005 – Thunder Bay Art Gallery, Thunder Bay, ON– Art for All Exhibition

Grants
I would like to acknowledge funding support from the Ontario Arts Council, an agency of the Government of Ontario.
2019 –  Geometric Abstractions – Common Elements: lines, shapes & colours, Atikokan
2018 –  GEOMETRIX: Exploring concepts of Geometric Abstraction – Thunder Bay
2009 – The Last Taboo Exhibition – Toronto
2009 – Digital Playground – Thunder Bay
2007 – Digitally Wired in a Wireless World – Thunder Bay
2007 – Heavy Metal: The Welding of Art & History – Thunder Bay
2006 – Digital iCandy Exhibition – Thunder Bay

Awards
2006 – Honourable Mention – Duluth Art Institute – Duluth, Minnesota, U.S.A. –"2006 Arrowhead Biennial Exhibition"